Thanks! We've received your message and will get back to you shortly.
Whoops! You're message didn't make it's way to us. Try again in a few minutes.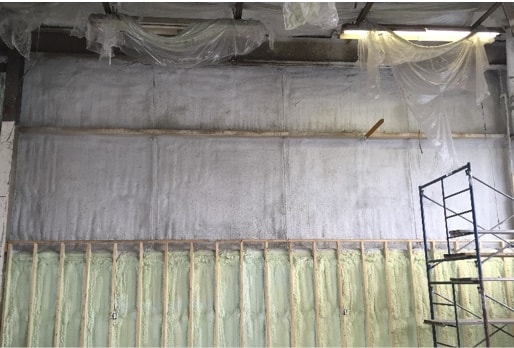 Fireproofing
Blouin Brothers Insulation is well experienced in fireproofing, offering customers a unique, one-source approach to fireproofing. We specialize in:
cementitious fireproofing (cement-based protection)
mineral fiber fireproofing (interior or semi-exposed spaces)
intumescent fireproofing (applied as a protective paint)
Fireproofing applications would typically include steel decking, structural beams, and siding systems.
Passive Fire Protection (PFP) is a method of fireproofing with a purpose of containing a fire and/or slowing the spread. Using fire-resistant materials, the building structure is protected and safeguarded. And when properly installed, PFP can save valuable lives, assets, and the building structure itself. When fireproofing protects the structural steel of a building, essential "egress" time is provided for both occupants and residents.
Blouin Brothers Insulation is a qualified applicator for Grace Monokote®, Z3306-MK6 products.
Many of our spray-applied fireproofing products are widely used for interior structural steel, and are very well respected throughout the world. The products bond well to steel and concrete, and form a uniform coating that is both durable and long lasting. Mineral fiber products are particularly well suited for fireproofing structural steel columns, steel joists, and metal decking. When well installed, an effective level of thermal resistance (R-Value) is provided at the same time. In addition to fire protection and insulation, mineral fiber is also excellent for soundproofing.
Intumescent fireproof coatings are applied as "paint". When exposed to fire, the coating swells and expands, becoming a "meringue-like" foam that protects steel from being damaged. The main benefit of intumescent fireproofing is its aesthetic appeal. When applied, this decorative coating is ideal for exposed surfaces where appearance is important. These fireproof products are being increasingly used to fire-protect exposed structural steel.
Bottom line, quality fireproofing will enhance a building's structural integrity. As professionals in fireproofing, Blouin Brothers is committed to delivering real value - with high quality products, timely schedules, and superior installation.
Get a quote for your home
---
Our Services
Whether you're a first time home buyer, or have been in your home for years, our insulation upgrades and troubleshooting services will help you reduce energy costs and increase the comfort and durability of your home.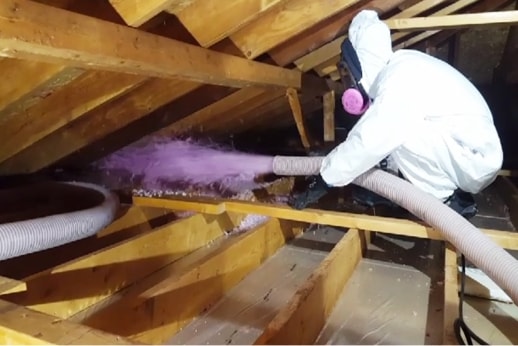 Blown-in Insulation
Blown-in insulation offers completely uniform coverage especially in hard to reach areas and can be installed in any thickness and density to achieve almost any desired R-value.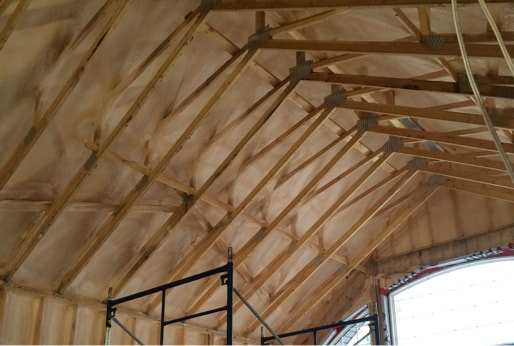 Spray Foam Insulation
Spray foam applications will save you up to 45% on your home and office heating and cooling costs, and is an excellent and efficient way to provide insulation and protection to buildings.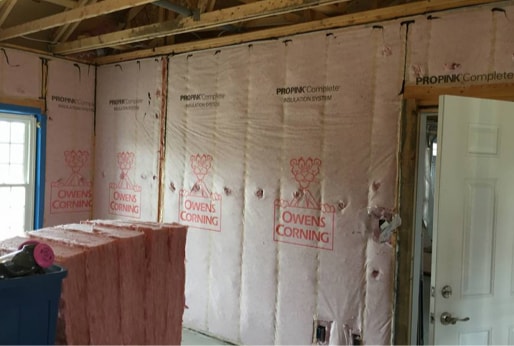 BIBS
The Blow-in-Blanket System (BIBS) is a unique system that uses loose fill fiberglass to create a seamless blanket of insulation in cathedral ceilings, floors, framed walls, basements and more.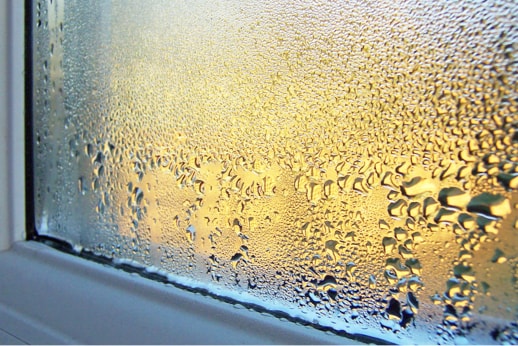 Heating, Ventilation, Air Conditioning Services
A comfortable home depends on good ventilation, heating and proper air conditioning. Improving your indoor air quality can also help asthma, and allergy symptoms.
See more services
Why Blouin Brothers Insulation?
Over 40 years of experience
High quality installation
Full-service company
Experienced and knowledgeable staff
We have had Jamie and his crew insulate not only our Sunswim Pool Concepts office building but also some inground pool frames. We truly appreciated their attention to detail and professionalism. We will definitely continue to deal with them on our future pool installations.
— Craig Boyer, Sudbury
I had Blouin Brothers come in and blow insulation in my attic. They were great. I called them and they were in within a few days to do the job. They were reasonably priced... would have cost me almost the same amount to do it myself. No complaints. Would call them again.
— Melissa, Sudbury
Had my basement and joist ends spray foamed in 2009 and saved over 700 dollars a year in heating cost.
— Tim Lachapelle, Sudbury
Jamie and his team went above and beyond with my cottage build this summer, a true professional!
— Greg Will, Sudbury
Very impressed with this company and their services. James is very helpful and takes the time to go above and beyond. I highly recommend this company!
— Cari Cameron, Sudbury
We only use the best
We use Owens Corning products which are GREENGUARD certified and free of formaldehyde, which is one of the most hazardous compounds to ecosystems and human health. All of the products used contain a minimum of 40% recycled material, to provide a sustainable future for our children.